This week I'm linking up with the Arkansas Women Bloggers for the ThanksBlogging Challenge. If you want to join, or just discover some amazing bloggers, click the logo to head over there.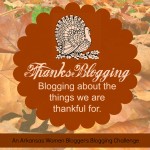 Today's topic is Thanksgiving Memories.
When I was growing up we always went to my grandparents house (mom's parents) for Thanksgiving. I'm sure there were years that we didn't do that, but I don't remember them. All I remember is that we always went to my grandparents. My parents, my brother and I, my aunt and uncle, and my grandparents all sat around the same table. In our same spots every year. The same jokes about passing the gravy.
If you went to my grandparents house the day before Thanksgiving the table would already be set. First thing Thanksgiving morning you would smell rolls in the oven. My grandma always prepared the entire Thanksgiving meal. It was always delicious and we always ate too much.
Then in July 2005 I got married. Three very short months later my brother was killed in an automobile accident. We buried him exactly two weeks before Thanksgiving day. We knew the holidays that year would be very very different.
One thing we knew for sure was that we didn't want our "normal" Thanksgiving. We didn't want to sit around that same table with an empty chair. So, it was mentioned that maybe we move Thanksgiving to my house. If it was a total fail we could regroup the following year.
Being both a newlywed and a non-chef, we all knew that I could never pull off Thanksgiving dinner on my own. So it was decided that Thanksgiving would be potluck style.
On Thanksgiving day everyone begin arriving at my house. My parents, my grandparents, my aunt and uncle. We also had hubby's parents and his brother came also. My brother's wife and daughter also ate with us that day. It was a sad day, but it was also a day that we could be thankful for the years we had with him and the family that we had to support each other.
So why, I'm sure you are asking, am I choosing this to write about as my Thanksgiving memory?? Because that was the first Thanksgiving at my house. We have had our new Thanksgiving at my house every year now (except the year I was miserable sick and pregnant with Ting and boycotted Thanksgiving). Coming to my house for Thanksgiving is our new family tradition.
Thanksgiving is a bittersweet holiday for me. It's the holiday that I will always remember as the first we celebrated without my brother. But it also the first that I got to be a for-real adult and host a family holiday at my very own house. It is also the only holiday where both mine and Hubby's families come together to celebrate as one. It will always be MY holiday.
Karen W