It's another fun day in the Arkansas Women Bloggers' ThanksBlogging Challenge.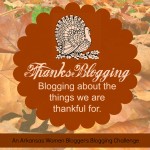 Today we are sharing Facebook pages. If you have a blog and you really want to see it grow, then a dedicated Facebook page is a must. I can't remember exactly when I created a page for
Ting's Mom Blog
, but I do know that I saw a decent increase in my traffic when I started building a fan base over there.
Another reason I like having a dedicated page for the blog is for privacy. If you have read the blog any amount of time you have probably noticed that I a little protective of my family and our exact location on this planet. I like to preserve all those details to people I actually know and fully trust. My personal Facebook page is made up of just that - people I know in real life. My blog page allows me another outlet to promote my blog without sharing all the details of my life.
If you need 10 more amazing reasons to create a Facebook page for your blog then head over to Arkansas Women Bloggers and check out
their list
.
BUT FIRST!
If you are not already following Ting's Mom on
Facebook
, go do it now! If you are already a fan and you are not receiving updates, it's because Facebook likes to mess with everyone's timelines. BUT, you can fix it. Just go to my page. Hover over the "Liked" button and a box will appear. Then make sure there is a check beside "Show in Newsfeed". See, that was easy.
And since I'm all about sharing great things with you, here are a couple of my fellow bloggers that you need to be following on Facebook as well: