This week I am linking up with the Arkansas Women Bloggers for the ThanksBlogging Challenge. If you would like to link up, click the logo below to sign up and get more information.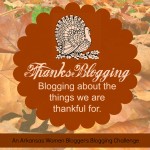 Today's challenge is "Outside the Walls Photo Challenge". The goal is to take pictures of things you are thankful for and then edit them using a certain online photo editing software. This is where I need to tell you I
adjusted
broke the rules. I'm not a fan of the software we were told to use, so I used
Ribbet
instead. I love Ribbet and use it to edit all my photos.
I just happened to have three photos on my phone from yesterday of the three people I am most thankful for in my life.