It's Day 3 of the ThanksBlogging Challenge at Arkansas Women Bloggers. I'm having so much fun reading everything from my fellow Arkansas bloggers! If you want to 'meet' some amazing bloggers, click the logo to head over to Arkansas Women Bloggers.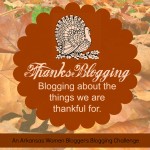 Today is "
I'm Thankful For...
" There are so so many things I'm thankful for this year. I'm going to start listing, but I feel certain I'll forget more than I remember.
Before anything, I am thankful that I serve an amzing God. God gave me my life and everything I have. Without his amazing love and grace I would have nothing.
My awesome and amazing best friend. Almost 12 years ago I met a boy who was the complete opposite of every guy I had ever been interested in. Seven years ago that boy made me his wife. We have been through SO much in our short time together, but every single day has brought us closer together. He is an amazing husband and a wonderful father. This past year has been tough on him, but he has embraced his new role in life and I love him even more for it.
My little miracle, Ting. Hubby and I spent two very long years trying, crying, and begging God for a baby. Every time he didn't give us what we asked for we cried some more. And then He surprised us with the most perfect little girl anyone could ask for. I realize now that He gave us a child at the most perfect time in our lives. Ting will always be my miracle child. She is beautiful and hilarious. Smart and smart-mouthed. I can't imagine possibly loving her more, but each day I find that I do love her more and more.
Mommy's little man, Bug. Three years after our first miracle, God sent us a little boy. I couldn't imagine my life as the mom to a boy, but I am loving every minute of it. Bug has the best personality and the most contagious laugh around. He has spent the majority of his live (all seven months of it) looking nothing like this family of his, but he is looking more and more like his daddy every day. I thought a second child would be boring since we had already experienced all things baby, but I was so wrong. I love my baby boy so very much.
My parents. I'm so proud of the home I grew up in. I have a family that was pieced together by God and he most definitely got it right. I was raised to love and respect others, to work hard and always do my best. I've watched my parents become grandparents. I've also watched them forget all the rules we had as kids (why do grandkids get away with so much??). I'm thankful for the parents I had.
My extended family. My mom was only 22 years old, with a nine month old child, when my biological dad lost his battle with cancer. My grandparents and aunts and uncles stepped up and did what any family would do - they took care of us. My extended family played such a huge part in my life growing up, and now play such a huge role in the life of my children. I am lucky to still be in contact with my dad's side of the family. My family will always be there for me.
My in-laws. Seriously! All the tales about evil in-laws and mean mother-in-laws - I honestly have no idea where that all comes from. I have the most amazing in-laws in the world. My husband was raised in a strong Christian home. God always comes first. My in-laws live their lives to serve God and are such an example to both me and to my children. I respect them and appreciate all they do for us.
My job. I am so lucky to have a job that I truly love. Even when I have a "bad" day, it isn't all that bad. I have co-workers that I like and a boss that is easy to work for. I have never gone to bed dreading the next day at work. I never dreamed that my job would be our sole livelyhood one day, but I am so thankful that it is fairly stress-free and provides for all of our family's needs (and most of our wants).
My home. As I am writing this post, it is very cold outside. I am thankful that I am sitting in a cozy chair, in a sturdy house, with the heat coming through the vents. I am thankful that both of my children (and the dog) have a comfy place to lay their heads tonight. I am thankful that we all have full bellies and appropriate clothes to wear. I am thankful that when we go outside tomorrow, we have coats to keep us warm. There are so many people in the world - and here in my town - that do not have these simple pleasures. I am completely overwhelmed that God has provided so much for me and my family.
What are you thankful for this Thanksgiving??
Karen W